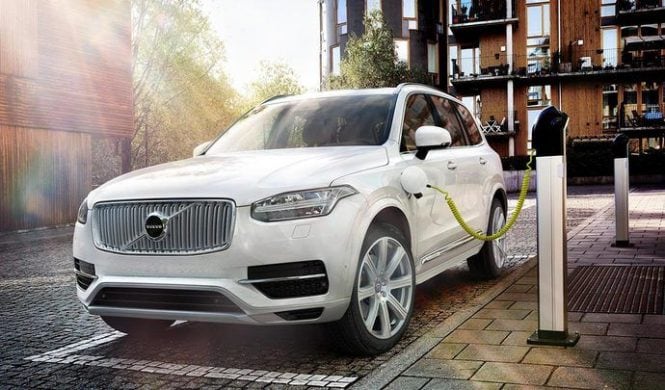 With the Volvo brand's game-changing Drive-E program ramping up, and with Earth Day coming up on April 22, this is a great time to spotlight two of the finest luxury "green" SUVs around: the Volvo XC60 Hybrid and the Volvo XC90 Hybrid. These vehicles are a true "best of both worlds" scenario: they possess award-winning style, comfort, features, and technology, and pair these attributes with an exemplary "green" driving experience.
Volvo XC60 Hybrid
Fully redesigned for 2018, the Volvo XC60 Hybrid exemplifies all that a premium hybrid SUV should be. This plug-in hybrid is powered by a 2.0-liter turbocharged and supercharged four-cylinder engine and a rear electric motor, a combination that achieves an incredible 400 horsepower and 472 lb-ft of torque. And on a 240-volt charging station, the electric motor can be fully recharged in only 2.5 hours.
Every Volvo XC60 Hybrid is outfitted with an eight-speed automatic gearbox and all-wheel drive (AWD). Surrounding this dynamic powertrain are a host of premium convenience features and advanced technologies, ranging from a panoramic sunroof and leather upholstery to a 9-inch touchscreen infotainment platform and Apple CarPlay®/Android Auto® integration.
Volvo XC90 Hybrid
As its name implies, the Volvo XC90 Hybrid is the Volvo XC60 Hybrid model's bigger brother. Both models use the same powertrains, and both are replete with high-end equipment. One key difference is that the 2018 Volvo XC90 Hybrid offers four trims instead of three, including the range-topping 2018 Volvo XC90 Hybrid Excellence. This plush vehicle is akin to a five-star hotel room on wheels: it replaces the third-row seat with two captain's chairs + footrests and adds heated/cooled cup holders, a rear center console with folding trays, and two crystal glasses.
These SUVs represent the acme of fuel-efficient luxury. Take a test drive today at Silver Spring Volvo serving Bowie, MD!